High school was a very active time for me- class all day, extra curricular ish, and volleyball. Lots of volleyball. When BHS wasn't in season, it was time for club. My dear mother, bless her, drove me for years to practices out to Salt Lake (year one), Draper (year two), Hooper (just as remote as it sounds- year three), and Kaysville (year four). Great active days with lots of scrimmaging and drills.
And then I graduated. And even if there was some sort of "volleyball" opportunity, it either lacked in competitiveness or frequency. So, my freshman year, I decided that running would be the best alternative to all the physical activity that just wasn't happening. Running is great, right? For the longest time I had envied runners. The thought of running a lot and on a consistent basis seemed exhilarating and rewarding. But it was so hard. I remember vowing all the way from 7th grade through sophomore year in gym that I would never run by choice- coincidentally enough these thoughts always followed the much dreaded "mile run" scheduled periodically throughout the semester. My entire number of runs during my Freshman year up at USU, all on the treadmill, most likely topped off at about eight or nine.
So the running thing didn't really work out. It wasn't enjoyable, and the treadmill in the student housing center was in a tiny white-walled room with ceilings so low that I thought if I put too much energy into a stride that my head would go through the roof.
The next fall was the semester I went to China.
MSG + rice + chilling in classrooms all day = WEIGHT GAIN.
No bueno.
And then shortly after arriving home I got my wisdom teeth out.
See for yourself:
It was really time to learn to run, I decided.
The spring semester of 2010 up at USU was the first time that I really gave it a try. At one point, I was running five or six days a week. Nothing more than a mile or two, but something that made me feel better than I had in previous months. Always on the treadmill, only running to songs that almost identically mirrored the rhythm of my pace.
This is the routine that carried on for a couple more years.
Grudgingly go to the gym, run as much as I could tolerate on the treadmill, do something else, then go home. I was breaking a sweat and that was good enough for me.
So I came home from being away again this spring (2012). But this time I wasn't really fat at all. In fact, my mom claimed that I looked thinner?? I'll take it. But still my desire to "be a runner" hadn't changed. Within weeks after I returned home, I found myself talking to my dad and uncle about wanting so badly to surpass the 2 miles that I had plateaued at. I wanted to run 4, 5, 6, and more. So after some positive encouragement my dad, being the religious runner that he is, talked me into giving running a chance. Six consistent weeks and running only every other day were his strong recommendations. So I decided to try it- what was the worst that could happen?
The six weeks turned into four months. All summer long I wore running clothes to my morning class, sat through the lecture, and made my way to the fieldhouse treadmills. My plan was to increase my distance each week. I ran Monday, Wednesday, and Friday, reaching the same distance each time. If I successfully met my goal all three days, I could move the goal up by 1/2 of a mile and if not, I'd have to try again the following week. This (obviously) happened a time or two.
The longest I made it on the treadmill was just over three miles, when my co-worker convinced me to ditch the treadmill. I explained to him how comfortable its consistency was in flatness and pace, but he was extremely persistent and told me it would be worth a try, despite my fears of uphill running and such.
So I drove down to Liberty Park on 7th and tried a lap. And then two. And I then realized that I had just ran a few miles- this time with ease. It was different, and not as linear/bland/mundane as the treadmill experience. So so so much better. I could feel the wind rush past me as I ran, I would try and "race" other runners who had made it to the park that day too, and I began to see the night and day difference between treadmill running and running outside. I really began to look forward to my runs- especially those early morning runs in the summer.
And then in late July I saw one of my best friends (youknowwhoyouareahem) cross the finish line of a half marathon. It was my first race I had ever been to. Runners of all types crossed the finish line- some heavy, some lean, some old, most young, and even a girl from my high school who used to be extremely unhealthy. The combination of seeing so many different people cross the finish line, and observing their satisfaction from completing the half immediately reeled me in. I was absolutely going to run one of these. Who on earth knew how that would happen? I sure didn't. But within the next couple of weeks I had registered for a half marathon in Provo during the last week of October.
My BFF, after crossing the finish line.

It was interesting how much easier it was to run with a goal in mind. I began running through the neighborhoods just below the U, and every Saturday morning I drove to Bountiful for my "long run" of the week. The miles miraculously began to add up each week. How was this happening?? I loved those Saturday morning runs and was so excited to tell my mama how many miles I had ran when she picked me up at Target after I'd finished (don't judge). I also, in the midst of this process, ran my first 5K with the Student Alumni Board for homecoming week. It was a lot of uphill, which really ticked me off, but my first race ever completed! My room mate and other SAB friends were there to cheer me on at the end. Hearing them cheer for me while crossing the finish was such a wonderful and new feeling to me. Even if it only was only after a mere 3.2 miles.
So the training continued. There were little (and incredibly obvious) things that I learned while training for the half. Some of those things:
1. You must drink water.
2. You must get a full night's rest the evening before a lengthy run
3. You must not eat greasy, deep-fried, or high-cal foods the night before a run.
4. You must use the restroom before you begin your run.
5. You must download the Nike Running app. It is great.
6. You must rotate running shoes every six months (approx). Oops.
It was an inevitable impediment I knew I'd eventually reach. New shoes were desperately needed, seeing that the particular shoes I was running in were more than two years old. My dad bought some fantastic Asics for me after I had a visit to the Salt Lake Running Co. In other great news, I pronate. Huh.

Look mom, new shoes!

My new shoes were purchased and broken in, I had fully completed my training for the half, and I was surprisingly very excited for race day. I gave my best shot at the carbo-load practice, and endured a sleepless night full of anxiety and worry that I'd sleep through my alarm. The actual race didn't begin til 9 a.m., but we were shuttled in buses up Provo Canyon at 5:00 a.m. to sit in a "heated" circus tent for 3 1/2 hours. Another detail I failed to mention- this particular race was called the Halloween Half. So, while waiting for race time to approach, I had plentiful amounts of entertainment. It was amazing to see some of the elaborate costumes people were willing to run in.
The race began. The course was a gradual downhill, it was nice and cool outside (30 Fahrenheit give or take), and I was so happy it had finally begun.
Hanging out with all of my new pals.
Pretty view of Timp (BFF and I had hiked earlier this year) from the starting point.
Mile 2- This = cake. Hey homeboy in the black, I'm going to follow your for the next few miles.
Mile 3- Highway cars cheering us on alongside the route? How thoughtful.
Mile 4- [iPod freezes from low temperatures] $#%&!!!!!!!!!
Mile 5- Can I do this without music?
Mile 5 1/2- I can do this without music.
Mile 6- Why are those people across the river running back up the hill?!?! I thought this was supposed to be a downhill only course.
Mile 7- Oh yeah, I remember now- the course was pushed two miles. Darn snow.
Mile 9- I. Love. Downhill.
Mile 10- Footsies are getting tired. Where did everyone go?
Mile 13- I hear cheering. What mile am I at?
Last .1 of the half- Is that my mother? And Jennifer? [whirlwind of emotions encompassing humility, exhaustion, accomplishment, and appreciation] Tears.
A cold morning that ended up being a gorgeous day for a run!
Although I look absolutely ILL in this photo, I had to post it. Couldn't have done this without the support of my amazing mother.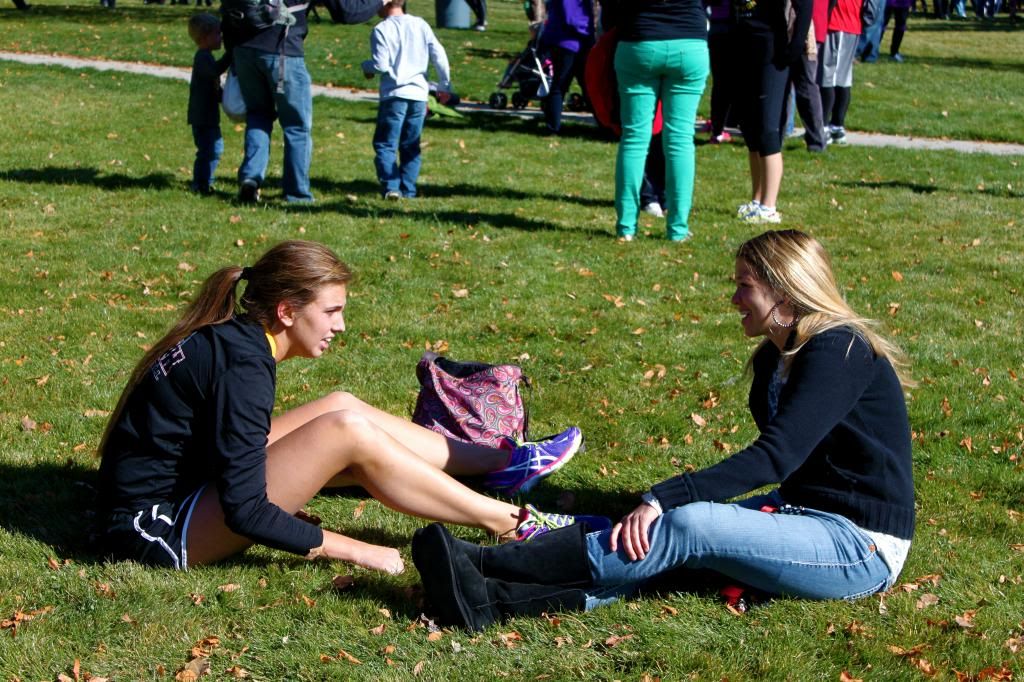 Stretching.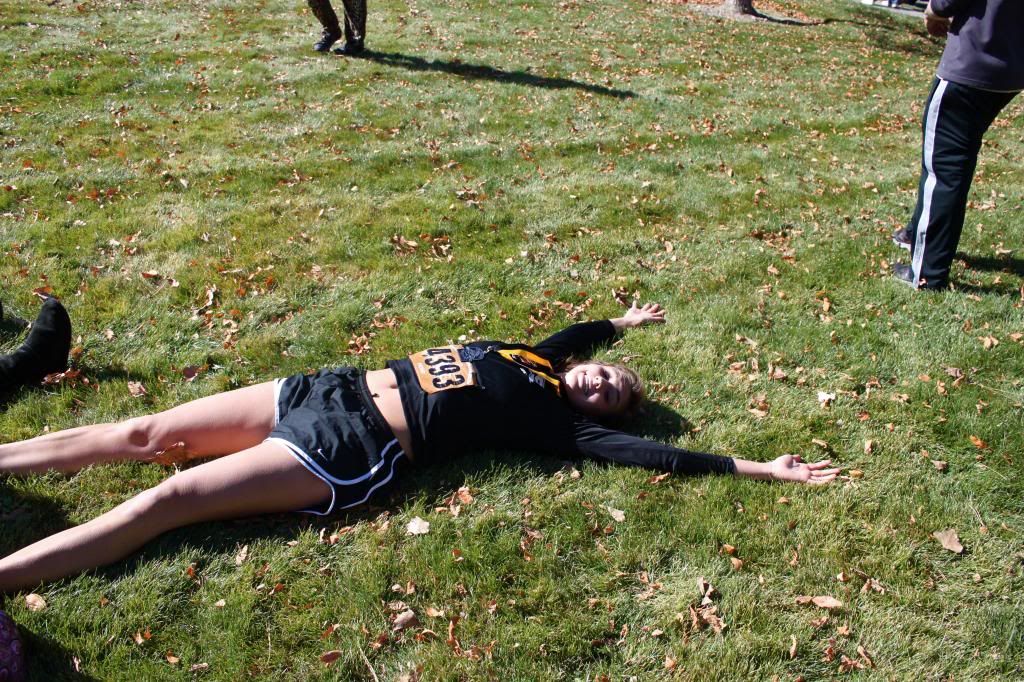 And the stiffness kicks in.

Truly can't believe I did it and would have scoffed at anyone who would have told me this spring that I'd be able to run 13.1 consecutive miles. So thankful for the experience and how much I learned from it. Can I now officially say that I'm a "runner"? Meh. That's debatable. There's a lot I have yet to learn . . .
So, one might ask, what did I do in celebration for this little victory?
Firstly- I ate a delicious lunch in P-Rove with mama at *
Communal
*
(arguably the only good place to get a meal down there). Yum.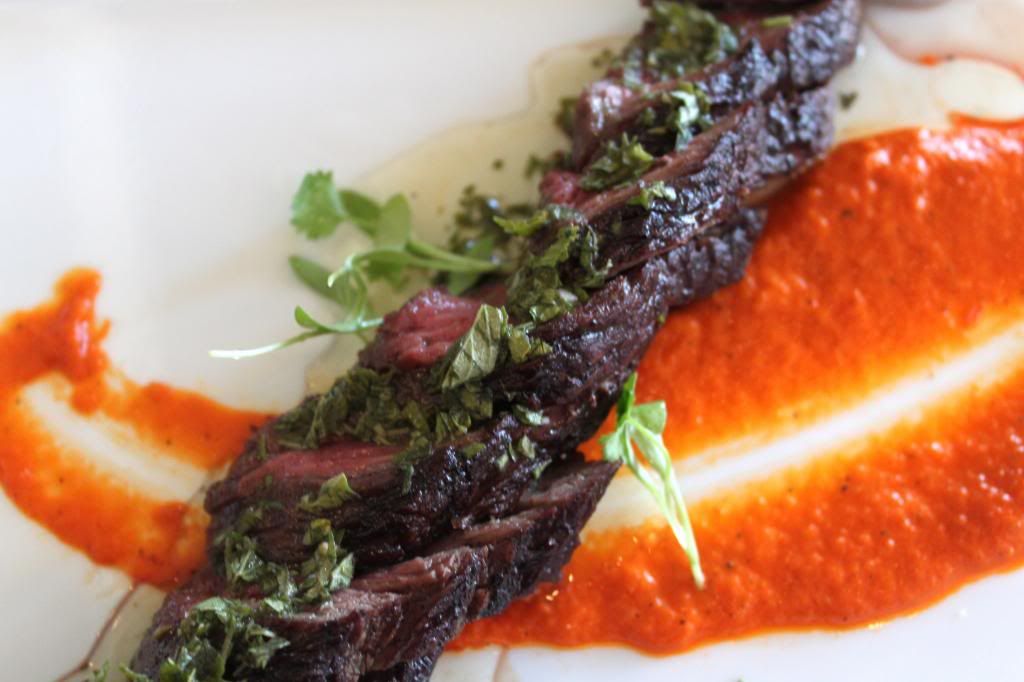 Cast iron roasted hanger steak with and heirloom pepper puree mmmmm.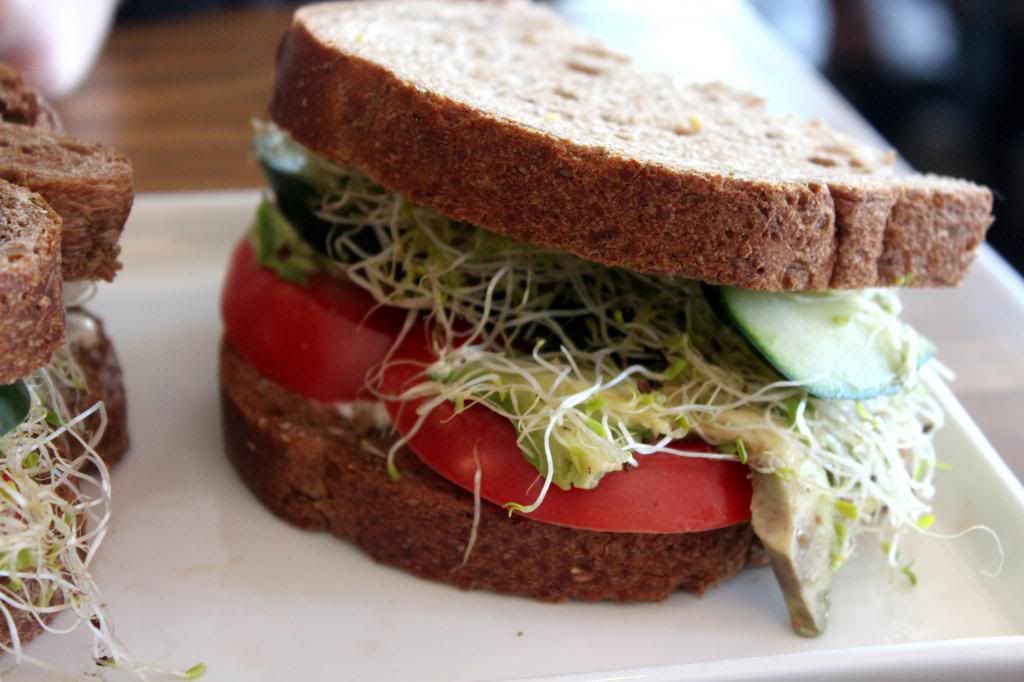 One of the best veggie sandwiches I've ever had: heirloom tomato, avo, sprouts, and a creamy herb dressing.

Secondly- came home to the most thoughtful greeting ever from my room mate, Hannah
and talked her ear off about the entire thing.
And finally- solidified the "go big or go home" mentality by signing up for a FULL marathon this coming May. Keep your fingers crossed for my willpower, lower extremities, and ability to accomplish a goal that I find quite daunting (what am I thinking??).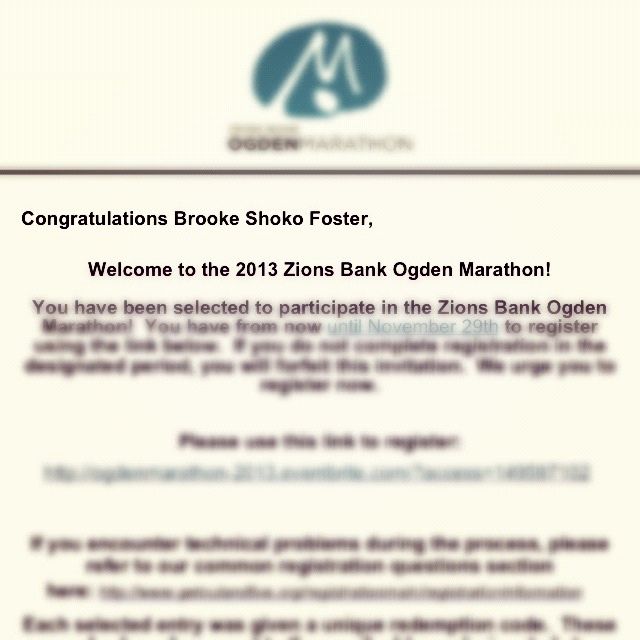 Three weeks of training down, 17 to go. Cheers.